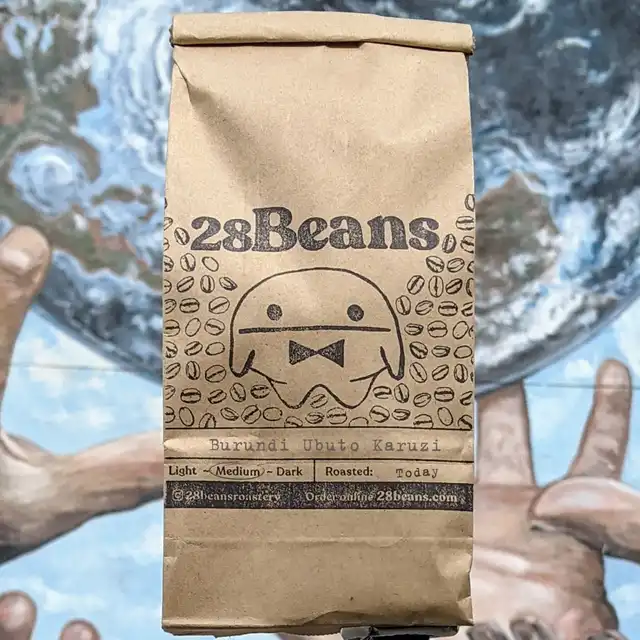 This Burundi is a clean cup perfect for summer mornings.
Local Pickup
Coffee roasting on demand
Place your custom order online
You'll receive a notice when ready (1 - 2 days)
Pick up your order from the coffee box on 28th Street
Burundi Ubuto Karuzi
$15.00
/ 340 grams / Whole Beans
| | |
| --- | --- |
| Grower: | 200 growers organized around the Ubuto producer group |
| Region: | Karuzi Province, Burundi |
| Altitude: | 1,700m |
| Process: | Fully washed and dried on raised beds |
| Tasting Notes: | Lime, Green Apple, Herbal, Cocoa |
Flavour
A full body coffee with hints of:
Lime
Green Apple
Herbal
Cocoa
Description
This microlot consisting of local bourbon cultivars from the Karuzi province has been given the name Ubuto, which translates to "young" because of the brand-new partnership between the Karuzi province and JNP coffees as well as the coffee trees being only a few harvests old.
This microlot is a wonderful showcase of Karuzi's local Bourbon varieties. Fully washing this coffee really allows the cleanliness and balance of the cup to shine through! It's got delightfully fresh flavors of papaya and peach, zesty lime, and a subtle sweet nutty flavor of marzipan which is particularly noticeable as the cup cools.
Top that off with a lovely full body, creamy texture and a quick, clean finish and you've got a perfect summertime cup!
This Burundi is a clean cup perfect for summer mornings.
Local Pickup
Coffee roasting on demand
Place your custom order online
You'll receive a notice when ready (1 - 2 days)
Pick up your order from the coffee box on 28th Street
Other Selections